Catalogue number
C108707
Chemical name
Wogonoside
CAS Number
51059-44-0
Synonyms
Glychionide B; Oroxindin; Wogonin 7-O-glucuronide; Wogonin 7-glucuronide; 5-Hydroxy-8-methoxy-4-oxo-2-phenyl-4H-1-benzopyran-7-yl-beta-D-glucopyranosiduronic acid
Molecular Weight
C22H20O11
Formula
460.3
Purity
98%
Physical Description
Yellow cryst.
Solvent
Chloroform, Dichloromethane,DMSO
Storage
Stored at 2-8°C, Protected from air and light, refrigerate or freeze
Applications

The anti-cancer effects of wogonoside in acute myeloid leukemia (AML) cell lines and primary patient-derived AML cells. Wogonoside exerted anti-proliferative properties both in vitro and in vivo. Furthermore, it efficiently inhibited the proliferation of U937 and HL-60 cells through induction of G1 phase arrest and promotion of differentiation. We also demonstrated that wogonoside significantly increased the transcription of phospholipid scramblase 1 (PLSCR1) due to its influence on the expression of cell cycle- and differentiation-related genes, including up-regulation of p21cip and down-regulation of c-Myc. Wogonoside also promoted PLSCR1 trafficking into the nucleus and facilitated its binding to the inositol 1, 4, 5-trisphosphate receptor 1 (IP3R1) promoter, thus increasing the expression of IP3R1. Finally, inhibition of PLSCR1 expression with small interfering RNA partially blocked wogonoside-induced cell cycle arrest and differentiation and disturbed the wogonoside-associated molecular events. The results of this study therefore suggest that wogonoside may represent a therapeutic candidate for the treatment of AML.


Previous studies have demonstrated that wogonoside has anti-inflammatory and anti-angiogenic activities. Wogonoside triggered the formation of microtubule-associated protein-light chain 3 (MAP-LC3) positive autophagosomes and the accumulation of acidic vesicular and autolysosomes in MDA-MB-231 cells. In addition, cells treated by wogonoside developed autophagosome-like characteristics, including single and double membrane vacuoles containing intact and degraded cellular debris. The results showed that wogonoside promotes the expression of LC3-II and Beclin-1. Furthermore, wogonoside inhibited cell growth of MDA-MB-231 cells in a concentration- and time-dependent manner, which was associated with wogonoside-induced autophagy. Wogonoside also suppressed the activation of mammalian target of rapamycin (mTOR) and p70-S6 kinase (p70S6K) by regulating the expression of the extracellular signal-regulated kinase (ERK1/2) and p38 involved mitogen-activated protein kinase (MAPK) signaling pathway. Taken together, these results suggest that wogonoside partially inhibits MDA-MB-231 cell growth by inducing autophagy through the MAPK-mTOR pathway and may be a promising anti-tumor agent.

References
1. Journal of Chromatography A, 2005, 1066, 243-247.
2. China Journal of Chinese Materia Medica, 2009, 34(9), 1097-1100.
3. Blood, 2013, 121(18), 3682-3691.
4. Food and Chemical Toxicology, 2013, 51, 53-60.
Guestbook
The packaging of the product may have turned upside down during transportation, resulting in the product adhering to the neck or cap of the vial. take the vial out of its packaging and gently shake to let the compounds fall to the bottom of the vial. for liquid products, centrifuge at 200-500 RPM to gather the liquid at the bottom of the vial. try to avoid loss or contamination during handling.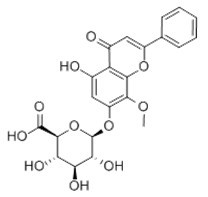 | | | |
| --- | --- | --- |
| Size | Price(USD) | Discount |
| 20mg | $80.00 | 5% OFF |
| 50mg | $184.00 | 8% OFF |
| 100mg | $313.00 | 15% OFF |
Orders can be placed by Emails. All orders received will be shipped in the next day if the stock is available.

To place an order, please provide the following information.

1) Your name and telephone number
2) Purchase order number
3) Product number, package size, description, and quantity
4) Shipping and billing addresses

Sent to your order to our email: info@coompo.com
If you have any questions about discounts or dealer discount, please send us a message. We will be glad to help.