Catalogue number
C104063
Chemical name
Quercetin-3-O-glucuronide
CAS Number
22688-79-5
Synonyms
Quercetin 3-glucuronide; Miquelianin; Querciturone
Molecular Weight
C21H18O13
Formula
478.4
Purity
98%
Physical Description
Powder
Solvent
Chloroform, Dichloromethane,DMSO
Storage
Stored at 2-8°C, Protected from air and light, refrigerate or freeze
Applications

Antioxidant. Quercetine-3-O-glucuronide were identified as potent stilbene oxidase inhibitors.


Quercetin-3-O-glucuronide significantly reduced the generation of β-amyloid (Aβ) peptides by primary neuron cultures generated from the Tg2576 AD mouse model. quercetin-3-O-glucuronide is also capable of interfering with the initial protein-protein interaction of Aβ(1-40) and Aβ(1-42) that is necessary for the formation of neurotoxic oligomeric Aβ species. Lastly, we found that quercetin-3-O-glucuronide treatment, compared to vehicle-control treatment, significantly improved Alzheimer's disease (AD)-type deficits in hippocampal formation basal synaptic transmission and long-term potentiation, possibly through mechanisms involving the activation of the c-Jun N-terminal kinases and the mitogen-activated protein kinase signaling pathways. Brain-targeted quercetin-3-O-glucuronide may simultaneously modulate multiple independent AD disease-modifying mechanisms and, as such, may contribute to the benefits of dietary supplementation with red wines as an effective intervention for AD.


Quercetin-3-O-glucuronide is a potential anti-atherogenic metabolite, enhancing the anti-inflammatory properties of M2a macrophages and modulating immune response effects in the presence of pro-inflammatory stimuli.


Quercetin-3-O-glucuronide are equally effective in inhibiting ROS-associated inflammation and ameliorating insulin resistant endothelial dysfunction by beneficial regulation of IRS-1 function.


References
1. Phytochemistry, 1999, 52(5), 759-767.
2. FASEB J., 2013, 27(2), 769-781.
3. Food Funct., 2012, 3, 1144-1152.
4. Mol. Nutr. Food Res., 2013, 57(6), 1037-1045.
5. J. Agric. Food Chem., 2004, 52(12), 3679-3687.

Guestbook
The packaging of the product may have turned upside down during transportation, resulting in the product adhering to the neck or cap of the vial. take the vial out of its packaging and gently shake to let the compounds fall to the bottom of the vial. for liquid products, centrifuge at 200-500 RPM to gather the liquid at the bottom of the vial. try to avoid loss or contamination during handling.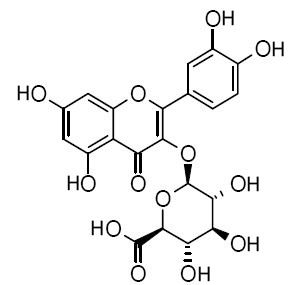 | | | |
| --- | --- | --- |
| Size | Price(USD) | Discount |
| 10mg | $286.00 | 5% OFF |
| 20mg | $487.00 | 8% OFF |
| 50mg | $1119.00 | 15% OFF |
Orders can be placed by Emails. All orders received will be shipped in the next day if the stock is available.

To place an order, please provide the following information.

1) Your name and telephone number
2) Purchase order number
3) Product number, package size, description, and quantity
4) Shipping and billing addresses

Sent to your order to our email: info@coompo.com
If you have any questions about discounts or dealer discount, please send us a message. We will be glad to help.