Catalogue number
C107859
Chemical name
Psoralen
CAS Number
66-97-7
Synonyms
7H-furo[3,2-g]chromen-7-one; 7-furo[3,2-g][1]benzopyranone; 7H-furo[3,2-g][1]benzopyran-7-one
Molecular Weight
C11H6O3
Formula
186.2
Purity
98%
Physical Description
Powder
Solvent
Chloroform, Dichloromethane,DMSO
Storage
Stored at 2-8°C, Protected from air and light, refrigerate or freeze
Applications

Psoralen (also called psoralene) is the parent compound in a family of natural products known as furocoumarins. It is widely used in PUVA (= psoralen + UVA) treatment for psoriasis, eczema, vitiligo, and cutaneous T-cell lymphoma.


An important use of psoralen is in PUVA treatment for skin problems such as psoriasis and (to a lesser extent) eczema and vitiligo. This takes advantage of the high UV absorbance of psoralen. The psoralen is applied first to sensitise the skin, then UVA light is applied to clean up the skin problem. Psoralen has also been recommended for treating alopecia.


Psoralen is a mutagen, and is used for this purpose in molecular biology research. Psoralen intercalates into the DNA and, on exposure to ultraviolet (UVA) radiation, can form covalent interstrand cross-links (ICL) with thymines preferentially at 5'-TpA sites in the genome. Psoralen plus UVA (PUVA) therapy has shown considerable clinical efficacy. Unfortunately, a side effect of PUVA treatment is a higher risk of skin cancer.


Recent reports indicate psoralens, activated by long wavelength ultraviolet light (black light), inhibit DNA synthesis in various cell types. This suggested to us a possible new therapeutic use for psoralens in proliferative epidermal diseases such as psoriasis.

References
1. Journal of Chromatography A, 2004, 1057(1-2), 225-228.
2. Phytochemistry, 1998, 47(1), 13-16.
3. EMBO Rep., 2005, 6 (6), 551-557.
4. Dermatol Clin., 1998, 16(2), 227-234.
5. Arch Dermatol., 1973, 107(6), 861-865.
Guestbook
The packaging of the product may have turned upside down during transportation, resulting in the product adhering to the neck or cap of the vial. take the vial out of its packaging and gently shake to let the compounds fall to the bottom of the vial. for liquid products, centrifuge at 200-500 RPM to gather the liquid at the bottom of the vial. try to avoid loss or contamination during handling.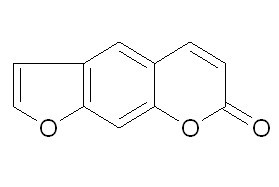 | | | |
| --- | --- | --- |
| Size | Price(USD) | Discount |
| 5mg | Inquiry | N/A |
| 10mg | Inquiry | N/A |
| 25mg | Inquiry | N/A |
Orders can be placed by Emails. All orders received will be shipped in the next day if the stock is available.

To place an order, please provide the following information.

1) Your name and telephone number
2) Purchase order number
3) Product number, package size, description, and quantity
4) Shipping and billing addresses

Sent to your order to our email: info@coompo.com
If you have any questions about discounts or dealer discount, please send us a message. We will be glad to help.