Catalogue number
C107956
Chemical name
Hesperetin
CAS Number
520-33-2
Synonyms
(2S)-5,7-dihydroxy-2-(3-hydroxy-4-methoxyphenyl)-3,4-dihydro-2H-1-benzopyran-4-one
Molecular Weight
C16H14O6
Formula
302.3
Purity
98%
Physical Description
Powder
Solvent
Chloroform, Dichloromethane,DMSO
Storage
Stored at 2-8°C, Protected from air and light, refrigerate or freeze
Applications

Hesperetin is a citrus flavonoid that has been reported to lower plasma cholesterol. It inhibits histamine release from IgE-challenged RBL-2H3 cells, with a potency comparable to the commercial anti-allergy drug azelastine. It also reduces the transcription of ACAT-2 mRNA in Hep-G2 cells and reduces ApoB protein synthesis in a dose-dependent manner. The EC50 for these responses is approximately 50 μM.


Hesperetin induces Notch1 expression in carcinoid cells, subsequently suppressing tumor cell proliferation and bioactive hormone production. Notch1 signaling pathway acts as a tumor suppressor in carcinoid tumors. This provides evidence for further study into hesperetin as a potential treatment for carcinoid cancer.


Hesperetin is an antioxidant flavonoid. Induces G1-phase cell cycle arrest. Anti-inflammatory. Hesperetin suppresses NF-κB activation. Reduces cholesterol biosynthesis. Inhibits lipid peroxidation. Neuroprotective against neuronal oxidative damage.


In the concentration range 250-500 μM, hesperetin and hesperidin showed potent inhibition of LPS-induced expression of the COX-2 gene in RAW 264.7 cells, suggesting the anti-inflammatory activity of these compounds. The ability of hesperetin and hesperidin to suppress COX-2 gene expression may be a consequence of their antioxidant activity.

References
1. Pharmaceutical Biology, 2003, 41(7), 546-549.
2. Nig. J. Nat. Prod. and Med., 2000, 4, 57-61.
3. Bioorganic & Medicinal Chemistry Letters, 2011, 21(19), 5784-5786.
4. Am J Surg., 2011, 201(3), 329-332.
5. Anticancer Research, 2005, 25(5), 3367-3374.
Guestbook
The packaging of the product may have turned upside down during transportation, resulting in the product adhering to the neck or cap of the vial. take the vial out of its packaging and gently shake to let the compounds fall to the bottom of the vial. for liquid products, centrifuge at 200-500 RPM to gather the liquid at the bottom of the vial. try to avoid loss or contamination during handling.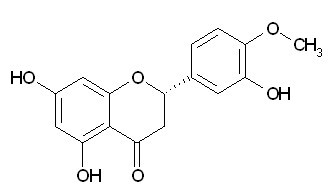 | | | |
| --- | --- | --- |
| Size | Price(USD) | Discount |
| 20mg | $40.00 | 5% OFF |
| 50mg | $92.00 | 8% OFF |
| 100mg | $157.00 | 15% OFF |
Orders can be placed by Emails. All orders received will be shipped in the next day if the stock is available.

To place an order, please provide the following information.

1) Your name and telephone number
2) Purchase order number
3) Product number, package size, description, and quantity
4) Shipping and billing addresses

Sent to your order to our email: info@coompo.com
If you have any questions about discounts or dealer discount, please send us a message. We will be glad to help.