Catalogue number
C108613
Chemical name
Glycitein
CAS Number
40957-83-3
Synonyms
7-hydroxy-3-(4-hydroxyphenyl)-6-methoxy-1-benzopyran-4-one
Molecular Weight
C16H12O5
Formula
284.2
Purity
98%
Physical Description
Yellow Powder
Solvent
Chloroform, Dichloromethane,DMSO
Storage
Stored at 2-8°C, Protected from air and light, refrigerate or freeze
Applications

Gycitein has weak estrogenic activity, comparable to that of the other soy isoflavones but much lower than that of DES and 17beta-estradiol.


the effects of genistein, daidzein and glycitein on the growth and DNA synthesis of aortic smooth muscle cells (SMC) from stroke-prone spontaneously hypertensive rats (SHRSP). SMC were cultured in dishes and proliferated on 10% dextran-coated charcoal/fetal bovine serum, and then treated with 0.1–30 μmol/L of genistein, daidzein or glycitein to investigate cell proliferation (cell number) and DNA synthesis (cell proliferation ELISA system), respectively. We also studied their effects on platelet-derived growth factor (PDGF)-BB (20 μg/L)–induced SMC proliferation. Soybean isoflavones inhibited proliferation and DNA synthesis of SMC from SHRSP in a concentration-dependent manner. Inhibition was significant at 3 μmol/L of genistein and 10 μmol/L of both daidzein and glycitein. For significant inhibition of PDGF-BB–induced SMC proliferation, concentrations as low as 0.1 μmol/L of each isoflavone were effective. These isoflavones, with their inhibitory effects on natural and PDGF-BB–induced SMC proliferation, may be useful in attenuatating such proliferation, a basic mechanism involved in atherosclerotic vascular change, thereby preventing atherosclerotic cardiovascular diseases.

References
1. Phytochemistry, 1973, 12(1):169-170.
2. J. Nat. Prod., 2003, 66(1):149-151.
3. Tetrahedron, 2004, 60(52):12211-12216.
4. J. Appl. Biol. Chem., 2007, 50(2):63-69.
5. Biomedicine & Pharmacotherapy, 2002, 56(6):302-312.
6. J Agric Food Chem., 1999, 47(4),1607-1610.
Guestbook
The packaging of the product may have turned upside down during transportation, resulting in the product adhering to the neck or cap of the vial. take the vial out of its packaging and gently shake to let the compounds fall to the bottom of the vial. for liquid products, centrifuge at 200-500 RPM to gather the liquid at the bottom of the vial. try to avoid loss or contamination during handling.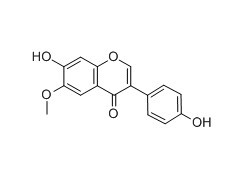 | | | |
| --- | --- | --- |
| Size | Price(USD) | Discount |
| 20mg | $110.00 | 5% OFF |
| 50mg | $253.00 | 8% OFF |
| 100mg | $431.00 | 15% OFF |
Orders can be placed by Emails. All orders received will be shipped in the next day if the stock is available.

To place an order, please provide the following information.

1) Your name and telephone number
2) Purchase order number
3) Product number, package size, description, and quantity
4) Shipping and billing addresses

Sent to your order to our email: info@coompo.com
If you have any questions about discounts or dealer discount, please send us a message. We will be glad to help.