Catalogue number
C108848
Chemical name
Ginsenoside Rh3
CAS Number
105558-26-7
Synonyms
(2R,3S,4S,5R,6R)-2-(hydroxymethyl)-6-[[(8R,10R,12S,13R,14S,17S)-12-hydroxy-4,4,8,10,14-pentamethyl-17-[(2Z)-6-methylhepta-2,5-dien-2-yl]-2,3,5,6,7,9,11,12,13,15,16,17-dodecahydro-1H-cyclopenta[a]phenanthren-3-yl]oxy]oxane-3,4,5-triol
Molecular Weight
C36H60O7
Formula
604.8
Purity
98%
Physical Description
White powder
Solvent
Chloroform, Dichloromethane,DMSO
Storage
Stored at 2-8°C, Protected from air and light, refrigerate or freeze
Applications

Ginsenosides Rg5 and Rh3 suppressed swelling of oxazolone-induced mouse ear contact dermatitis. These ginsenosides also reduced mRNA expressions of cyclooxygenase-2, interleukin (IL)-1β, tumor necrosis factor (TNF)-α and interferon (IFN)-γ. The inhibition of ginsenoside Rh3 was more potent than that of ginsenoside Rg5. These findings suggest that ginsenoside Rh3 metabolized from ginsenoside Rg5 may improve chronic dermatitis or psoriasis by the regulation of IL-1β and TNF-α produced by macrophage cells and of IFN-γ produced by Th cells.

The present study investigated whether the ginsenoside Rh group (G-Rh1, -Rh2, -Rh3 and -Rh4) having similar structures induce differentiation of HL-60 cells and whether protein kinase C (PKC) is involved in differentiation by ginsenoside. Differentiation was assessed by Wright–Giemsa stain and nitroblue tetrazolium reduction. G-Rh2 and G-Rh3 induced differentiation of HL-60 cells into morphologically and functionally granulocytes but G-Rh1 and G-Rh4 did not. G-Rh2 and G-Rh3 arrested the cell cycle at the G1/S phase, consistent with the ability to induce differentiation in a decreasing order of retinoic acid>G-Rh2>G-Rh3. During differentiation by G-Rh2, Ca2+/phospholipid-dependent PKC activity was increased in both the cytosol and total cell extract and Ca2+/phospholipid-dependent phosphorylation of 38 and 200 kDa endogenous proteins increased, while phosphorylation of 60, 64, 66 and 97 kDa proteins was Ca2+/phospholipid-independent. When cytosolic PKC isoforms were analyzed by immunoblotting, no significant change was observed in the α level, however, the immunoreactive 60 kDa band of a similar mass to the PKC catalytic fragment appeared following treatment with G-Rh2. The β isoform was gradually increased with prolonged treatment. The γ isoform was not detected in the cytosol of untreated cells, whereas a small amount was detected 5 days after treatment. It is concluded that G-Rh2 and G-Rh3 can induce differentiation of HL-60 cells into granulocytes and modulation of PKC isoform levels may contribute to differentiation of HL-60 cells by G-Rh2.

Among the individual ginsenosides tested, Rh2, Rh3 and compound K significantly inhibited LPS-induced iNOS and cytokine expressions. Therefore, the inhibition of microglial activation by ginseng saponins may a good potential therapeutic modality for neurodegenerative diseases.


References
1. Archives of Pharmacal Research, 2002, 25(4), 428-432.
2. Archives of Pharmacal Research, 2006, 29(8), 685-690.
3. The International Journal of Biochemistry & Cell Biology, 1998, 30(3), 327-338.
4. Journal of Neuroimmunology, 2009, 209(1-2), 40-49.
Guestbook
The packaging of the product may have turned upside down during transportation, resulting in the product adhering to the neck or cap of the vial. take the vial out of its packaging and gently shake to let the compounds fall to the bottom of the vial. for liquid products, centrifuge at 200-500 RPM to gather the liquid at the bottom of the vial. try to avoid loss or contamination during handling.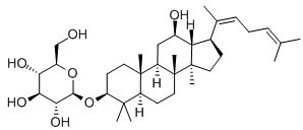 | | | |
| --- | --- | --- |
| Size | Price(USD) | Discount |
| 5mg | $134.00 | 5% OFF |
| 10mg | $228.00 | 8% OFF |
| 25mg | $388.00 | 15% OFF |
Orders can be placed by Emails. All orders received will be shipped in the next day if the stock is available.

To place an order, please provide the following information.

1) Your name and telephone number
2) Purchase order number
3) Product number, package size, description, and quantity
4) Shipping and billing addresses

Sent to your order to our email: info@coompo.com
If you have any questions about discounts or dealer discount, please send us a message. We will be glad to help.