Catalogue number
C103985
Chemical name
Ganoderiol F
CAS Number
114567-47-4
Synonyms
(5R,10S,13R,14R,17R)-17-[(2R)-7-hydroxy-6-(hydroxymethyl)hept-5-en-2-yl]-4,4,10,13,14-pentamethyl-1,2,5,6,12,15,16,17-octahydrocyclopenta[a]phenanthren-3-one
Molecular Weight
C30H46O3
Formula
454.7
Purity
98%
Physical Description
Powder
Solvent
Chloroform, Dichloromethane,DMSO
Storage
Stored at 2-8°C, Protected from air and light, refrigerate or freeze
Applications

Shows cytotoxic and anti-HIV activities.
GanoderiolF induced growth arrest of cancer cell lines HepG2, Huh7 and K562, but exerted much less effect in hepatoma Hep3B cells and normal lung fibroblast MRC5 cells, and no effect on peripheral blood mononuclear cells.


GolF was found to inhibit activity of topoisomerases in vitro, which may contribute to the inhibition of cellular DNA synthesis. Activation of the mitogen-activated protein kinase EKR and up-regulation of cyclin-dependent kinase inhibitor p16 were found in early stages of GolF treatment and were presumed to cause cell-cycle arrest and trigger premature senescence of HepG2 cells. The growth-arrest and senescence induction capability on cancer cells suggest anticancer potential of GolF.

References
1. L. B. S. Kardono, et al., J. Nat. Prod., 1991, 54(5): 1360-1367.
2. Agric. Biol. Chem., 1988, 52, 367.
3. Chem. Pharm. Bull., 2000, 48, 1026-1033.
4. Journal of Natural Medicines, 2009, 63(3), 304-310.
5. Life Sciences, 2006, 79(12), 1129–1139.
Guestbook
The packaging of the product may have turned upside down during transportation, resulting in the product adhering to the neck or cap of the vial. take the vial out of its packaging and gently shake to let the compounds fall to the bottom of the vial. for liquid products, centrifuge at 200-500 RPM to gather the liquid at the bottom of the vial. try to avoid loss or contamination during handling.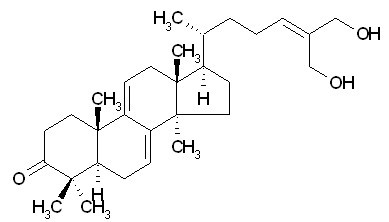 | | | |
| --- | --- | --- |
| Size | Price(USD) | Discount |
| 10mg | $704.00 | 5% OFF |
| 20mg | $1197.00 | 8% OFF |
| 50mg | $2753.00 | 15% OFF |
Orders can be placed by Emails. All orders received will be shipped in the next day if the stock is available.

To place an order, please provide the following information.

1) Your name and telephone number
2) Purchase order number
3) Product number, package size, description, and quantity
4) Shipping and billing addresses

Sent to your order to our email: info@coompo.com
If you have any questions about discounts or dealer discount, please send us a message. We will be glad to help.