Catalogue number
C108574
Chemical name
Ferulic acid
CAS Number
1135-24-6
Synonyms
(E)-3-(4-hydroxy-3-methoxyphenyl)-2-propenoic acid
Molecular Weight
C10H10O4
Formula
194.1
Purity
98%
Physical Description
White cryst.
Solvent
Chloroform, Dichloromethane,DMSO
Storage
Stored at 2-8°C, Protected from air and light, refrigerate or freeze
Applications

Ferulic acid is an antioxidant in vitro in the sense that it is reactive toward free radicals such as reactive oxygen species (ROS). Ferulic acid helps to prevent damage to our cells caused by ultraviolet light. Exposure to ultraviolet light actually increases the antioxidant potency of ferulic acid. Ferulic acid is often added as ingredient of anti-aging supplements. Studies have shown that ferulic acid can decrease blood glucose levels and can be of help to diabetes patients. ROS and free radicals are implicated in DNA damage, cancer, accelerated cell aging. Animal studies and in vitro studies suggest that ferulic acid may have direct antitumor activity against breast cancer and liver cancer. Ferulic acid may have pro-apoptotic effects in cancer cells, thereby leading to their destruction. Ferulic acid may be effective at preventing cancer induced by exposure to the carcinogenic compounds benzopyrene and 4-nitroquinoline 1-oxide. Note that these are not randomized controlled trials done with human participants, and therefore, the results of these studies may not be directly applicable to human use.


Ferulic acid incorporation into a topical solution of 15% L-ascorbic acid and 1% -tocopherol improved chemical stability of the vitamins (C+E) and doubled photoprotection to solar-simulated irradiation of skin from 4-fold to approximately 8-fold as measured by both erythema and sunburn cell formation. Inhibition of apoptosis was associated with reduced induction of caspase-3 and caspase-7. This antioxidant formulation efficiently reduced thymine dimer formation. This combination of pure natural low molecular weight antioxidants provides meaningful synergistic protection against oxidative stress in skin and should be useful for protection against photoaging and skin cancer.

References
1. Z. Naturforsch C, 2004, 59(7-8), 509-514.
2. Free Radical Biology and Medicine, 1992, 13(4), 435-448.
3. Journal of Investigative Dermatology, 2005, 125, 826-832.
Guestbook
The packaging of the product may have turned upside down during transportation, resulting in the product adhering to the neck or cap of the vial. take the vial out of its packaging and gently shake to let the compounds fall to the bottom of the vial. for liquid products, centrifuge at 200-500 RPM to gather the liquid at the bottom of the vial. try to avoid loss or contamination during handling.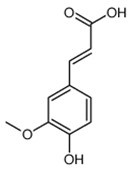 | | | |
| --- | --- | --- |
| Size | Price(USD) | Discount |
| 5mg | Inquiry | N/A |
| 10mg | Inquiry | N/A |
| 25mg | Inquiry | N/A |
Orders can be placed by Emails. All orders received will be shipped in the next day if the stock is available.

To place an order, please provide the following information.

1) Your name and telephone number
2) Purchase order number
3) Product number, package size, description, and quantity
4) Shipping and billing addresses

Sent to your order to our email: info@coompo.com
If you have any questions about discounts or dealer discount, please send us a message. We will be glad to help.