Catalogue number
C100074
Chemical name
Cirsimaritin
CAS Number
6601-62-3
Synonyms
5-hydroxy-2-(4-hydroxyphenyl)-6,7-dimethoxy-1-benzopyran-4-one
Molecular Weight
C17H14O6
Formula
314.3
Purity
98%
Physical Description
Yellow powder
Solvent
Chloroform, Dichloromethane,DMSO
Storage
Stored at 2-8°C, Protected from air and light, refrigerate or freeze
Applications
Cirsimaritin concentration-dependently inhibited the superoxide anion (O(*-)(2))generation and O(2) consumption (IC(50) 11.5+/-2.2 micro M and 17.0+/-3.9 micro M, respectively) of neutrophils. Cirsimaritin did not reduce, but slightly enhanced the O(*-)(2) generation in phorbol 12-myristate 13-acetate (PMA)-activated or arachidonic acid-stimulated NADPH oxidase preparation as well as during the autoxidation of dihydroxyfumaric acid. Cirsimaritin did not elevate cellular cAMP levels, and only partially inhibited the fMLP-induced [Ca(2+)](i) changes in the presence or absence of extracellular Ca(2+). The phosphorylation of protein tyrosine, extracellular signal-regulated protein kinase and Akt caused by fMLP were attenuated by cirsimaritin in a concentration-dependent manner. In contrast, cirsimaritin had no effect on the phosphorylation of p38 mitogen-activated protein kinase. Cirsimaritin produced a concentration-dependent reduction in the formation of phosphatidic acid and phosphatidylethanol, in the presence of ethanol, from fMLP-stimulated neutrophils (IC(50) 15.1+/-6.5 micro M and 15.6+/-3.4 micro M, respectively), but did not affect the phosphatidylethanol formation in response to PMA. Under the similar concentration range, cirsimaritin attenuated the membrane translocation of ARF and Rho A. However, the GTPgammaS-stimulated membrane-associated ARF and Rho in cell lysate were unaffected by cirsimaritin. Collectively, these results indicate that the inhibition of fMLP-induced respiratory burst by cirsimaritin in rat neutrophils is likely mainly through the blockade of phospholipase D signaling pathway.
References
1. Naunyn Schmiedebergs Arch Pharmacol., 2002, 366(4), 307-314.
2. J. Asian Natural Products Research, 2004, 6(2), 139-144.
Guestbook
The packaging of the product may have turned upside down during transportation, resulting in the product adhering to the neck or cap of the vial. take the vial out of its packaging and gently shake to let the compounds fall to the bottom of the vial. for liquid products, centrifuge at 200-500 RPM to gather the liquid at the bottom of the vial. try to avoid loss or contamination during handling.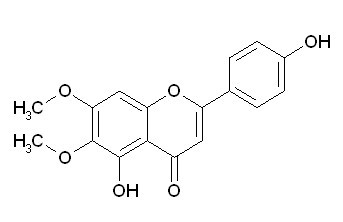 | | | |
| --- | --- | --- |
| Size | Price(USD) | Discount |
| 5mg | Inquiry | N/A |
| 10mg | Inquiry | N/A |
| 25mg | Inquiry | N/A |
Orders can be placed by Emails. All orders received will be shipped in the next day if the stock is available.

To place an order, please provide the following information.

1) Your name and telephone number
2) Purchase order number
3) Product number, package size, description, and quantity
4) Shipping and billing addresses

Sent to your order to our email: info@coompo.com
If you have any questions about discounts or dealer discount, please send us a message. We will be glad to help.